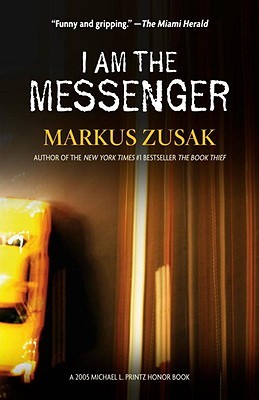 Publisher: Knopf Books for Young Readers
Publishing Date:  December 18th 2007
Genre: Media tie-in, Indian fiction, Contemporary
ASIN:B001BZRUR4
Goodreads: 4.11
Rating: ★★★
Reading Zusak is always a pleasure, there is something about the way this man writes that it just leaves the reader awestruck; the words and experience stay with you long after you are done with the final page. I picked up I am the messenger when I needed to read something that would just help me take my mind off things and knew there could be no better choice than Zusak. The story of I am the messenger is about an ordinary cabbie Ed Kennedy who believes his life is going nowhere and at age 19 he has practically given up on hope, on the possibility of achievement or good things happening to him; basically he has given up on himself. Suddenly though his life starts turning around with the arrival of cards on his doorstep. One by one each card comes with a task for Ed – a task which has him help someone in one way or another, while some tasks are beautiful, some stir up his very soul as they leave him anguished. Turns out with each of these cards, Ed Kennedy finds he is capable of more than he assumed and gave himself credit for…all he needed was faith to achieve things and a will to go after them.